The lowland dipterocarp rainforest surrounding The Datai Langkawi has many hidden secrets. Stepping into the lush rainforest gives you the feeling of entering the enchanted woods in an Enid Blyton book.
During the closure period of the resort, we frequent our resort grounds in the evenings to enhance our signature 'Rainforest After Dark' experience for our guests. As we were strolling along the Butterfly Garden with dimmed torchlights, we heard rushed scattering on the boardwalk. Intrigued, we quickly turned up our lights and there it was, frozen in its tracks right in front of us, a Lesser mousedeer hiding in a manicured foliage about six metres away! This is a memorable first sighting for some of us.
Officially the smallest hoofed mammal in the world, the Lesser mousedeer (Tragulus javanicus) measures up to 45cm in length and weighs approximately two kilograms. This crepuscular species is known to be active during dusk and dawn, roaming the resort grounds.
We were even more excited that we manage to take a shot of this chance encounter!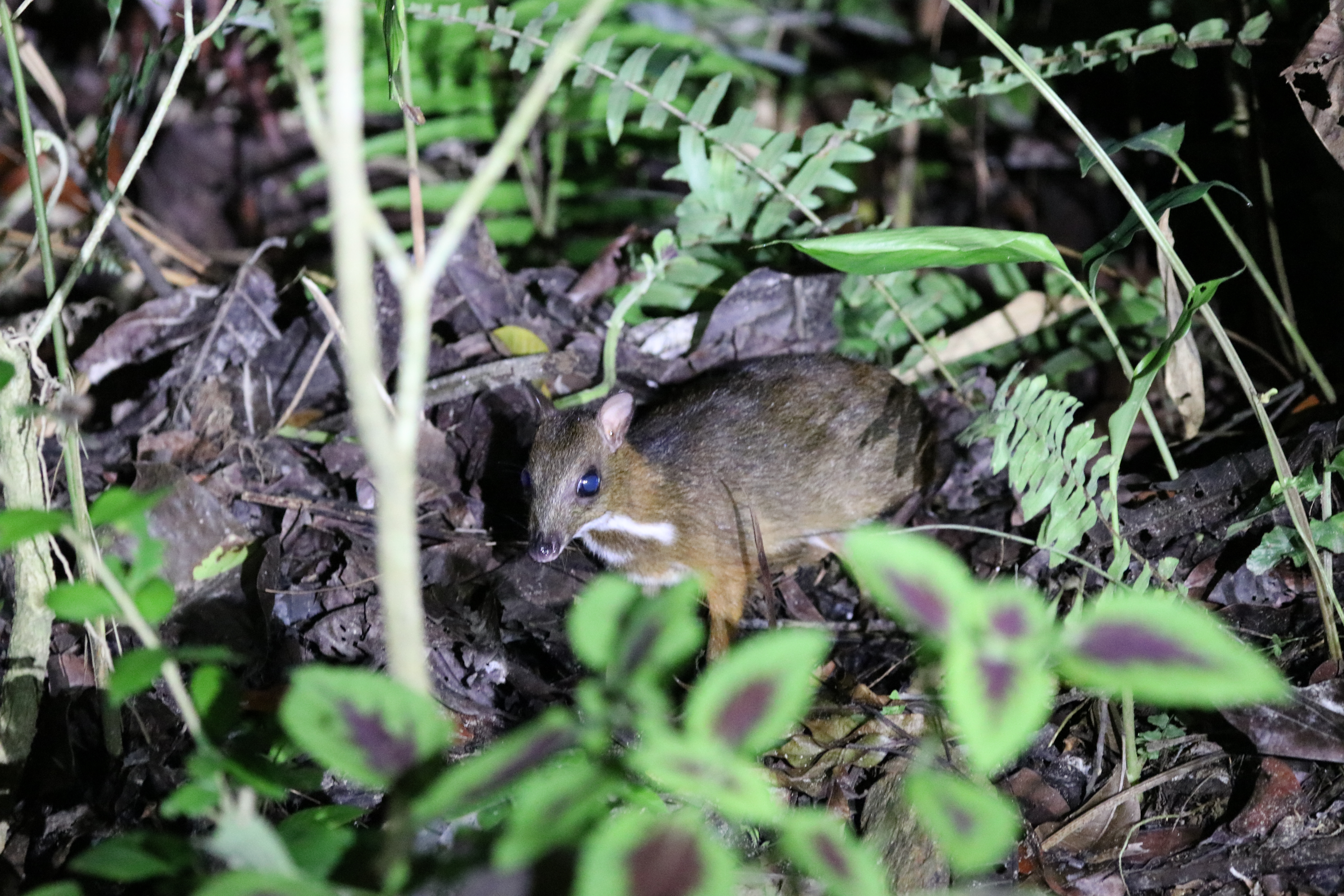 The elusive even-toed hoofed animal seen hiding amongst the bushes.
The Lesser mousedeer is usually a very shy animal and its ever ready to bolt at the slightest foreign sound. But this one stayed long enough for us to appreciate its beauty. An old folk tale of the cunning and intelligent "Sang Kancil" comes to mind as we observed it pitter-patter slowly – popular among children in the Malay culture, the story tells of a little mousedeer outsmarting a float of crocodiles to cross a river without getting eaten.
We are lucky enough to sight the Lesser mousedeer a couple more times since the soft opening of the hotel. There is a possibility that we came across the same one captured in the photo. We hope to learn more about it with the presence of our camera traps. Wish us the best!