The Grandeur of Monochrome Malaysia - by SC Shekar
Gallery along the corridors of the main building of The Datai Langkawi showcases stunning black and white photos of Langkawi and beyond.
Intricately curated and imagined, an interactive gallery has been established along the corridors of The Datai Langkawi to celebrate the resort's 30th Anniversary. Stunning black and white photos captured by award-winning photographer SC Shekar showcase some of the most majestic natural sites found in Langkawi and beyond. Throughout its three decades of operation, the resort has had the harmonious co-existence of man and nature at its core; preserving Langkawi's beauty and supporting the delicate balance of ecosystems on the island.

SC Shekar has focused many of his photographic endeavours on depicting the beauty of Malaysia, highlighting the threats the country faces in a constantly changing world. The photos in this gallery are categorised into several cornerstone themes, including Malaysia's rainforests, mountains, waterfalls, mangroves and beaches, as well as indigenous communities.
QR Codes attached to each of the stunning pictures lead viewers to explore more about the location and background of each visual, with insightful videos narrated by Irshad Mobarak, renowned Langkawi Naturalist and Chief Advisor of The Datai Pledge. Acting as guardian of Langkawi's natural beauty, Irshad has been active in his conservation, preservation and education initiatives and regularly lectures on sustainable tourism for over 25 years. His contribution to the preservation of Langkawi was honoured in 2007 with the 'Amazing Malaysian Award'.
Capturing the Beauty of Malaysia and its People
Malaysia is a country of incredible riches – in culture, heritage, tradition and nature. In a constant state of change, many of the unique aspects of this nation are under threat of vanishing. Stripping away colour and capturing the beauty of nature and Malaysia's indigenous communities in monochrome, Shekar aims to draw the viewer's attention to the essential, free from distraction, and to convey a sense of sobriety in a bold and uncompromising stance.
Sweeping landscape views, majestic mountains with the morning mist floating above their peaks, valleys of serpentine rivers and crystalline shorelines, reflect Shekar's view from the sky as he shoots his subjects in minute detail, portraying the vast beauty of the country. Displayed side by side are intimate portraits of indigenous communities – the unofficial custodians of the rainforests, and all mountains and rivers within – who often experience challenging conditions in a world where their ancestral lands are constantly shrinking. Shekar showcases their grace and dignity in adapting to the changes around them.
This photo series has been curated to spark valuable discourse and awareness of the delicate balance required to maintain this country's beauty for generations to come.
"...when they have vanished, there is no contrivance on earth that can make them come back again." - SC Shekar
SC Shekar - Award Winning Photographer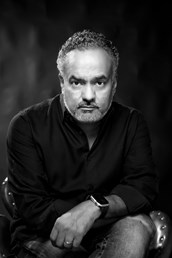 SC Shekar began his career as a photojournalist in the late 1970s, then moved on to specialise in editorial and architectural photography. Although trained as a lawyer, this self-taught photographer has concentrated on socio-documentary photography projects around the world over the past three decades. He has focused on Malaysia's indigenous communities (referred to as Orang Asli in the Malay language), creating an unparalleled portfolio of pictures of their life as well as their struggles. Shekar's work has appeared in many solo exhibitions, notably at Malaysia's National Art Gallery.
He has published more than two dozen books of photography, covering themes as diverse as architecture, food culture, portraiture and indigenous people's lives and crafts. His most recent major project is 'Grit & Grace: The Grandeur of Monochrome Malaysia', a stunning collection of photos of Malaysia's topography and communities - a curated selection of these photos is on display along the corridors of The Datai Langkawi.
Shekar is currently working on a project documenting Southeast Asia from the air titled 'Nusantara', in collaboration with Bellflight USA and Sigma Japan. The award-winning Shekar is also the official photographer of The Datai Pledge, contributing pro bono, to bring about awareness of the fragility of the environment and to highlight the plight of Malaysia's indigenous people living in the rainforests.
Irshad Mobarak - Langkawi Naturalist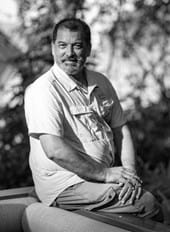 Irshad Mobarak has been a keen naturalist since childhood. Inspired by the lives and deeds of pioneer naturalists and explorers, Irshad left a banking career and has, since then, devoted his life to helping ordinary people unlock the mysteries of the natural world. He is driven by a passion for educating others on the delicate, symbiotic relationship between animals, plants and man.
Irshad has been a naturalist, conservationist and educator for the past 25 years. He has appeared in a number of international documentaries such as National Geographic's Mysteries of the Malaysian Rainforest, Toby Amies's The Rough Guide – Trips of a Lifetime and projects for the Discovery Channel. He also participated in TEDx World Wildlife Fund talks in Singapore.
For his important contribution to the preservation of nature on Langkawi, he was awarded the Amazing Malaysian Award in 2007 and subsequently empowered a group of school children to replant trees in a local park.
When not in the field, Irshad consults and lectures on birds, biogeography, conservation and other elements of island natural history to a wide audience, ranging from school children to corporate figures, naturalists, scientists and others with a love of natural history. He is Chief Advisor for The Datai Pledge, the conservation and sustainability programme by The Datai Langkawi.