Our oceans are an infinite source of wonder. However, unsustainable fishing practices in the seas around Langkawi have negatively impacted marine biodiversity through habitat destruction. The Fish For The Future programmes seek to address threats and imbalances to marine ecosystems. Integral to these programmes is the recognition that all the different audiences need to benefit – nature, fisheries, fishers and tourism. The Datai Langkawi are also working with the Department of Fisheries and the state government to gazette the bay as a marine protected area to safeguard the bay's coral reefs for the future.

MareCet is dedicated to marine mammal conservation and protection of their habitats through community awareness and education, conservation action, and policy advocacy on a government level. 
In addition to our partner activities, we are also assisting MareCet with funding for their flagship initiative, the Langkawi Dolphin Research, on Indo-Pacific Humpback Dolphins and Indo-Pacific Finless Porpoises. The project investigates the distribution, abundance, ranging patterns, social structure, behaviours and acoustic ecology of these marine mammals, as well as their interactions with humans.
OBJECTIVES AND ACHIEVEMENTS
Coral Regeneration
We have transplanted numerous coral frames and over 300 coral nubbins into Datai Bay reef to boost the coral population as well as inserted 5 Artificial Reefs and will continue to build on this. Artificial Reefs are large steel devices providing a safe haven for fish to feed and populate as well as a settlement site for coral larvae and rehabilitated corals from our Coral Nursery at The Datai Langkawi, where vulnerable corals are cared for until they are healthy enough to be returned to the sea.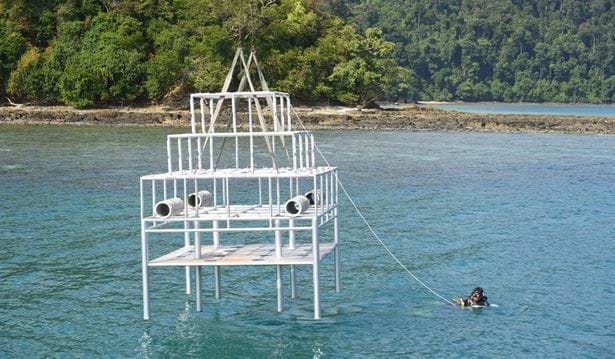 Sustainable Fishing
We are working with the Department of Fisheries Malaysia (DOF) to help us reach local fishers and work with them to adopt a whole-systems thinking on marine environments and to raise awareness of the benefits of sustainable fishing. The Artificial Reefs deployed at Datai Bay were designed to support sustainable fishing practices. Over 90 local head fishers have already participated in engagement sessions held with the DOF to promote sustainable fishing.
"With Fish For The Future, we are dedicated to reviving our underwater world through restoring the coral in the bay and making the beach as turtle friendly as it once was. We hope that the results of our work bear fruit not just for today or tomorrow, but for years to come."

-Siva Prakash, Pillar Leader, Fish For The Future, The Datai Pledge | Marine Biologist, The Datai Langkawi-