YOUTH FOR THE FUTURE PARTNER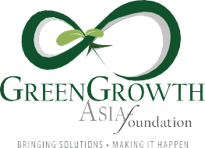 Green Growth Asia Foundation is a non-profit organisation responding to sustainability challenges in Asia through thought leadership and action. Green Growth Asia Foundation's principal objective is to take the lead in promoting a new growth strategy that strikes a balance between economic development, social inclusivity as well as environmental sustainability.
Their projects are divided into four key areas: economic growth, inclusive growth, environmental actions and sustainability education. One example of a major initiative is the Eco-Schools Programme which aims to make young people aware of the environmental and sustainability issues facing them in their school and community. The programme is implemented by teachers with students undertaking a project that responds to a particular environmental need in their location. The goal is to make a lasting impact on the students' attitude towards the environment and in doing so make them ambassadors for green issues for life.